There are a lot of new Android NFL Football games that have been released in the past year. To help you find the best one for your needs, we compiled this list of some of our favorite ones to try out! We hope you enjoy it and learn about some new games!
The NFL season is back in full swing, and a lot of football fans are gearing up for the upcoming Super Bowl. The anticipation has never been higher as there are new Android games that have just hit the market. What are they? Keep reading to find out!
Madden NFL 22 is the latest installment of the Madden NFL video game series. This season, the game developers promise to create an even more realistic NFL gaming experience than ever before. With the all-new Player Ranks and the return of Player Training, you can upgrade your lineup and build the ultimate team.
The completely reimagined trade system allows you to mix and match different types of players as you trade up, and with the quarterback, running back or wide receiver options, you can build a roster that fits your style. Reach a higher OVR than ever before as you battle your way through the 2021 NFL season to the ultimate goal.
The new Madden NFL 22 Mobile features next-level visuals, an across-the-game interface upgrade for a complete new NFL mobile app experience, and console-quality graphics that bring football plays to life like never before. You can also draft fearless new rising stars and NFL Legends from an elite list of players, and manage your NFL franchise team as the general manager with complete control. Plus, there are football draft picks awaiting you so you can build your ultimate team.
Are you ready to take your football dreams to the next level? BIG WIN Football is one of the most exciting and realistic football simulators out there – you can put together the dream team that you have been imagining for years!
First, choose from the All-Star, Superstar, and Legend players. Then make your team unique by customizing their jerseys, helmets, numbers, and other accessories. Assemble an unbeatable team and show off your skills in Big Bowl challenges, Tournaments, and Quick Play modes – all with a chance to win big prizes!
Don't forget to use powerful BIG IMPACT cards to give your characters extra special abilities! Plus, Bronze, Silver, Gold, and Platinum skill boost cards enable you to further develop each player's skills. Go ahead – take control of your dreams on the field today with BIG WIN Football! It's time for some serious fun!
If you're a fan of American football, then you'll love Retro Bowl. Presented in a glorious retro style, the game has simple roster management, including press duties and the handling of fragile egos, while on the field you get to call the shots.
Can you pass the grade and take your team all the way to the ultimate prize? Can you win the Retro Bowl? With hours of gameplay and multiple game modes to keep you entertained, Retro Bowl is the perfect game for any armchair quarterback.
Each player will lead his team to the possible success and try to win the prize. The main goal is to complete all the levels and win Retro Bowl award.
CBS Franchise Football is an NFL simulator for CBS. Crafting your own perfect football team has never been easier as this app provides you with a collection of the best players in pro football history.
Whether it's putting together an all-pro roster or unlocking special edition, limited edition, and legend versions of your favorite players – there's something for every kind of fan. With this simulator, you can manage your team and build them into a championship contender while customizing playbooks to determine success on the field.
If you're patient enough, you might even be able to grind away until you bring home the Franchise Bowl trophy! The best part is that it's an addictive and fun experience – leading many passionate football fans to keep coming back for more!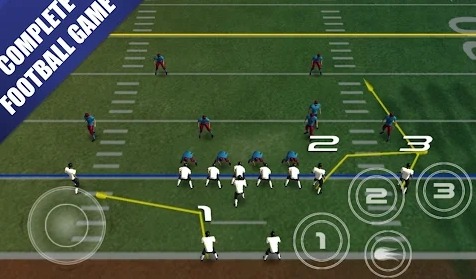 American Football Champs is gaming at its best! With real ball physics, pro-level game speed, and expert gameplay, this game will have you wanting more. In American Football Champs, you become a key player on your team. The individual point system earns you game cash for staying in the center of the action.
Its real ball physics and pro-level speeds make gameplay realistic. You can choose every play and control whichever player you want. Offensive tactics include play selection, rushing speed boost, stiff arm, spin, and diving into the end zone. Defensive tactics include play selection and user-controlled tackling.
ESPN Fantasy Sports is the ultimate way to enjoy fantasy football, basketball, baseball, and hockey. It's a league that lets you play with friends or join an existing one to battle against fans from all over the world.
You can stick to the standard game rules or tailor them to your liking – the choice is yours. Best of all, with ESPN Fantasy Sports you can easily sign up and draft your own team, edit your lineup, add new players, and even make trades if necessary. Plus, you can keep track of your players' performance and get exclusive access to rankings, projections, and analysis by some of the biggest names in fantasy sports.
Want more? Stay up to date with real-time matchup stats and pro game scoring as well as use their cool new chat feature which allows you to engage with other league-mates. And have we mentioned that you can customize your teams with hundreds of cool fantasy logos? From those inspired by ESPN personalities to iconic superheroes – what's not to love?!