Color painting games are suitable not only for kids but also for any ages. If you're in the mood for some creative painting, then you need to check out the best Android color painting games. These apps are a lot of fun and will keep you entertained for hours on end.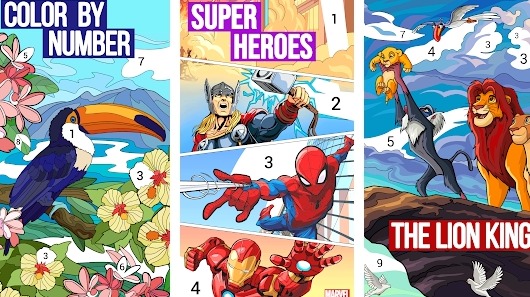 Happy Color™ is a color by number game that has taken the world by storm. With over 40 categories to choose from, there is something for everyone. From Disney and Marvel to animals, nature, places, flowers, art, birds, food, hobbies, holidays, messages, tattoos, and more, there is an endless supply of pictures to color.
The game also features special categories like mystery, rare, and blend. With so many options available, it is no wonder that Happy Color™ is one of the most popular apps on the market today.
Do you want to experience a game that's visually stunning, with an equally captivating sound effect? Are you looking for something fun and challenging? If so, then Pigments is the perfect game for you! The audiovisual appeal of this game is second to none. Boasting a modern aesthetic and clean design, it'll certainly capture your attention from the very start.
To begin your adventure, simply swipe into the play area. To pause or end the game, pull and swipe respectively. Additionally, if you hold your finger on the screen or double tap – voila! You'll get an overview of the canvas.
Now we move on to the gameplay; here's how it works: you need to mix drops of primary colors in order to create a long streak of a secondary color. Removing at least one mixed-colored drop gives you points – but that's not all! Depending on how many drops you remove in succession, you may also gain extra time back – up to 60 seconds! With each point won and minute gained back, see how far can your skills take you in Pigments' exciting world! See who can unlock their hidden potential as they paint their way out of this world!
Doing art and coloring has been proven to have a great mental health benefits, especially for adults who are so busy with work. Artistic activities such as coloring and painting are relaxing, letting the mind disconnect from stress. But let's face it, opening a paint book or gathering our supplies and materials to do a traditional painting can be exhausting in itself! When you feel like you want to relax but can't put in too much effort, Colorfy is here for you.
This game is designed so that anyone of any age and level of skill can enjoy it in the comfort of their own home. We've collected designs like mandalas, animals, patterns, florals, and more – giving you lots to choose from.
If you're feeling overwhelmed by picking complicated art pieces there are also simple ones available so everyone is covered! There's no worry about using chemicals or worrying about stains either- just get ready for your device and start downloading because going digital is the way forward.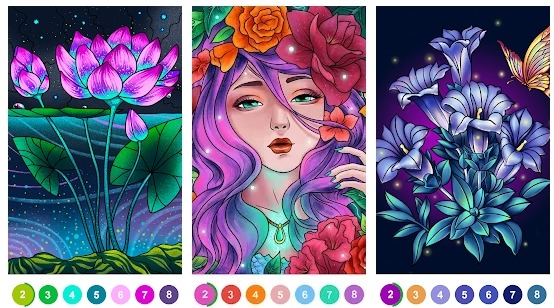 Paint By Number is an art drawing game that lets you color modern artworks with color by numbers. There are so many fascinating coloring pages in the game and new pictures for painting by numbers are updated every day! There are dozens of number coloring categories to choose from, such as animals, love, jigsaw, quotes, characters, florals, mandalas, and so on.
You can also find amazing special coloring pages of gradient colors in the app. With Paint By Number, you can see what masterpiece your creation can become just by following the numbers.
Anime art has become more accessible due to new ways of coloring without creating. All you need to do is click on the pre-selected areas, switch up your colors, and start expressing yourself! With simple gameplay and cleverly crafted areas, users can get amazing pictures with ease. That's why so many are flocking to anime art each day; there are new images being released every day, ranging from anime characters to anime kids and beyond.
No matter where or when you get the urge to create – pick up your phone and load up that favorite image! There are more than ten categories available throughout the site, making it easy to find exactly what type of anime art calls to you. Even better: these images come in beautiful high-quality, giving you thousands of options for when inspiration strikes. Anime art has never been easier; all it takes is a few clicks and a bit of imagination for wonderful creations!