Pranking is a fun way to have some laughs with friends and family. In this blog post, we will be discussing the 5 best Android Apps for pranks! Whether you are looking to scare your friends or just make them laugh, these apps are sure to help you out.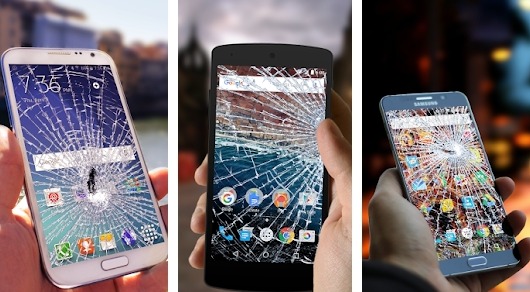 Broken Screen Prank is a classic funny app used to prank your friends. When you touch your phone screen, the app simulates the broken and cracked screen with loud cracking sounds on your phone. It looks like you use your finger to break and crack it. The broken effect is so realistic that all of your friends will believe that you intentionally broke and smashed this expensive cellphone.
Voicer is a celebrity voice changer prank call app. Not only can you change your voice to sound like someone famous, but the other person on the line will be in for a shock when they hear Chris Pratt claim he'll have their car towed! The best part of this phone app is its face change feature that makes it impossible to spot who's calling!
You get to choose a random avatar and instantly sound like tons of different celebrities or try one individual like Arnold Schwarzenegger threatening his agent about releasing bad movies. Voicer may not make any sense from an acronym perspective, but trust us- it's going to win you over with its hilarious antics!
The Fake Call – Prank Friends app is interesting and easy to use. Create your own background with various colors, set the caller's voice, edit the incoming screen name and number, make sure you have the timer for scheduling an automatic call at a specific time. Perfect for fake incoming calls from boyfriends/girlfriends/moms or police when you need your friends worried about what you are up to!
Fake Chat is an application that is for those who enjoy crafting amusing stickers, memes, and funny gifs. With our straightforward and simple interface, you will spend less time trying to figure out how to use the app and more time coming up with hilarious conversations. We have been making people laugh for years so we know what works best!
The app has many features included in its one-click chat screenshot – even photos of your friends from Facebook! If you want a creative outlet via fake chats than Fake Chat might just be the answer to all your worries.
This app helps your everyday life by bringing some laughter into it, so don't be afraid to download this whoopee cushion app. With the timer you can set up a perfect timing of explosion and with clean interface you will be able to use this prank wars battle every day without any difficulties. Place down little toy around office or on car's back seat and wait for someone to activate the fart sounds in our App which will make the guy jump out of his skin. You know exactly what woul happen then – lots of laughing, more fun at work, better mood among people.