When planning a long flight, it's important to know the status of your flight at all times. You don't want to be stuck in an airport somewhere with no way of finding out when you're going to finally board your plane because you can't check the departure time on your phone! Thankfully, there are many Android apps that will help keep track of your flight. In this blog post, we explore 6 different Android flight tracking and cheap flight finder apps and what they offer so that you can find the best app for you.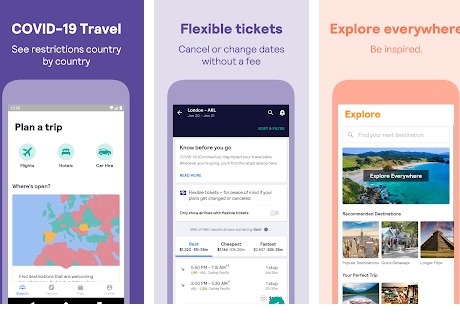 Let Skyscanner help you plan and book your whole travel trip – there's no other company who makes it as easy as they do! Search flights, hotels, or car rental to find the best prices available@ Join 90+ million others who trust the Skyscanner sevrice for low-cost flights and amazing hotel deals all around the world! Booking is free of charge and our target is always finding you the best possible price so that your entire holiday goes smoothly.
Skyscanner is your one stop destination for finding really cheap flights, last minute deals and exactly what you're looking for. We have best prices guaranteed, because we work with over 400 airlines around the world to find great flight deals so you can travel smarter. So whether it's a spontaneous weekend away or a once-in-a-lifetime family holiday, Skyscanner is here to make sure there are no hidden charges or surprises – just the lowest prices every time.
The Flightradar24 app for mobile is the world's best connected global flight-tracking service. Get your favorite airport information right when you want it, and see aircraft in the sky move around on a detailed interactive map. It lists aircraft with registered ICAO codes and the ability to identify specific planes overhead by uploading a photo of them or just pointing your device's camera at them!
With Flightradar24 Flight Tracker, watch aircraft move around the world in real time! Look for flights on a detailed map, or point your device at an airplane to find out where it's going and what kind of aircraft it is.
Air Traffic is a free flight radar with many features and no subscription fee. With the latest updates, you can now enjoy a 3D pilot view animation of each aircraft's progress during the entire departure or landing procedure. Air Traffic will help you choose your next travel destination by displaying the live positions of all major airlines worldwide on one map, and much more detailed info about their flights!
Powerful marketing materials inspire travelers to book tickets and explore destinations they have not considered before. You might also consider using air traffic to calculate fuel costs (flight time ÷ distance) as it could lead to savings for airline companies and consumers alike when planning future flight routes – don't miss this new opportunity to save money while traveling!
Keep track of your flight with the Flight Tracker. Find detailed information on when and how long it is scheduled to take off and land including airport gate and terminal updates. With Flights, you can see what the weather will be at your destination before you get there so stay comfortable in flight or plan ahead for changes during travel!
You can also share your flights on Trips with family members that are traveling too. There's no way to avoid delays, but they don't have to be stressful, so sign up for notifications about status changes of specific flights through Alerts by Flight Tracker.
This app allows you to track the real-time flight status and see the live map flight track of any commercial flight worldwide, plus general aviation in the United States and Canada. Track by aircraft registration, route, airline, flight number, city pair or airport code. Tracking data includes complete flight details and full-screen maps with NEXRAD radar overlay.
Searching for a cheap flight and want to know when you should leave or where you might be heading? You'll find ultimate peace of mind, thrills of excitement and everything in between with Cheapflights.
Just enter the destination you need to get there quickly, let us crunch the app's data so that we can show you the cheapest days to fly – it's as simple as that. Browse through hundreds of airlines and travel agents from your own pocket on your phone while sitting comfortably on a couch anywhere in the world! Keep track of those features too like smart value flights which make balancing price and duration a breeze.