How many times has this happened to you? You delete a file, and then realize that it was something important. Or maybe you accidentally deleted an entire folder of files. No matter what the situation is, there are ways to get those lost or deleted files back! There are plenty of Android apps out there that can help recover your data if you act fast enough.
We have compiled a list of 5 different applications for recovering deleted files on Android devices that we think will suit the needs of most users. Read below to find out which ones made our list!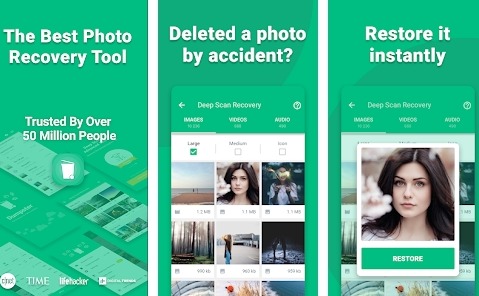 Worried about deleted files? Don't worry – Dumpster is here to save the day. With a companion Android app that automatically backs up your Android apps and media files, Dumpster goes one step further to keep an inventory of all the data you can never afford to lose. Recovering lost photos, video clips, or recent app deletions takes seconds with this easy-to-use backup solution and ensures your most important digital assets are always safe!
Recycle Master is here to make deleting your files a whole lot easier. The app's first-of-its kind deep recovery process allows you to scan your device for files already deleted and undelete them as many times as possible. Need something private? Lock the app with password so only people with the right code can unlock it and see what was once deleted, while saving some space in the process! The auto clean will be there every week to back up useless data from recycled information that never meant much in the first place.
Undeleter Recover Files & Data is a data recovery tool with an intuitive and easy-to-understand interface. Undeleter handles all types of files (images, video clips, audio, etc.), not just specific file formats like some competitors out there. You can scrub the device's camera roll to quickly find deleted photos or thumbnails of past memes you shared on Instagram last month without ever connecting your phone to your computer!
All these functions can come at a price though – ads will appear inside the app every once in awhile. That's why we're introducing reward videos for restoring deleted content: restoration of any discovered file or data is completely free of charge when using our new system but if you want to remove ads and unlock extra functions, you can find their pricing below.
A great product for many who mistakenly delete files and want an easy way to get them back. It's as simple as choosing the deleted file you need to recover, selecting 'recover,' and voila–the deleted file that was lost is now here! It's never been easier or more intuitive to find your lost photos, videos, or other important files with this amazing app.
Whether you need to recover deleted emails from your work computer or accidentally deleted all of the family photos, Deleted File Recovery for Mac can greatly simplify this process through its intuitive user interface and powerful scanning capabilities.
All data recovery files is the latest trash bin on android. This app has a advance technology that may help you find and recover deleted video, images, audio file in an easy way if your phone automatically deletes or its lost by any other means.
The main bulk of this app process one deleted file at a time with complete precision. It is slightly more expensive then other paid apps out their but worth it considering its value.