Choosing a ringtone for your Android phone can be tough. There are lots of great apps that offer tons of features, but which one is the best? In this blog post we will talk about 5 different apps and why they are some of the best on the market.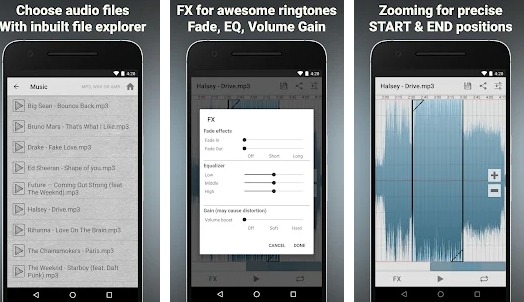 Ringtone Slicer FX is the best free ringtone creator and audio editor app that you can find on the Google Play Store. It allows you to create your own custom ringtones from any song or sound then edit them as much as want with smooth transitions plus it also works for alarms and notifications. The app has intuitive paging, file management tools, MP3 encoding formats support plus it supports landscape orientation for a better experience!
Ringtone Maker is the perfect app for all your customizing needs. From setting an alarm tone at work or school to setting a notification tone on your phone, you have the power to create any ringtone that fits your personality.
The best part about it? You can do it all from the convenience of your own phone. What type of rings are you looking for? Calm and soothing sounds or upbeat melodies – Ringtone Maker has every option available right at fingertips. Customize everything with just a few clicks, and find what's going to be perfect for you!
With this app you will never have to worry about waking up unprepared for a morning meeting again because of its customizable sound options; go back in time and set your phone to 1966 with "In Da Club" as your alarm or make room for some new music on Friday nights by setting Drake as a dedicated text notification tone.
You'll never want to use your phone without Zedge Ringtones! With an endless selection of music, effects and funny tones—the app has got something for everyone. Set mom's ringtone just the right way, or maybe give grandma a surprise with certain alerts. Whether its country tunes or DINOSAUR SMASHING POTS, there is plenty to choose from!
Think of the app as an iphone setting all-in-one. It's easy to find new ringtones with every tap and switch up your alarm sound too when necessary. Fuel your creativity without spending any money or flushing down hours on Google searching for new tones!
Enjoy hours of editing-free music with this MP3 cutter and ringtone maker! Alarm or notification personalized to your contact is just one tap away. Say goodbye to auto cuts, now you can cut out the best part of audio at millisecond level precision. Save unfinished work as drafts and resume them right where you left off at anytime for a creative experience every single time.
MP3 Cutter and Ringtone Maker is an app for people who really like their music. The sound quality is customizable and available at high bitrates, and it can be mixed in different ways. It's perfect for those with a love of audio production.
Best Ringtones app is a great way for you to find the ringtones that suit your personality. Stuck on best place to get free ringtones? Our application has everything you can ever need, from country-specific ringtone apps, funny ones, and even vintage or rock songs. You just have to download it!
Features:
– More than 10000 song tones in your area.
– Easy search for favorite type of music with search trends.
– Download tones directly to phone so you can listen again.