You might not know this, but Japan has a very good music scene. J-pop is the term used to refer to Japanese pop music and it's something you should definitely be checking out if you're into that sort of thing. There are tons of great artists in the genre, and while they don't get as much attention outside of Japan as they deserve, some are starting to make noise internationally. So with that being said, here are 5 Android apps for listening to J-Pop!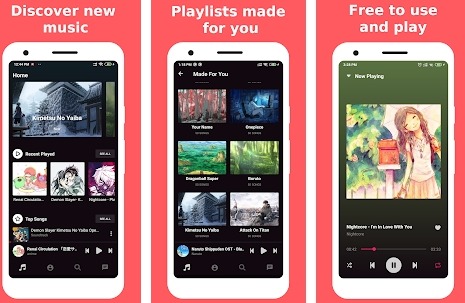 Anime Music brings soundtracks of your favorite attention-grabbing Anime series or movies to you for free. Listen to the dark melodies from classics like Death Note and Darker than Black, uninterrupted violin solos from School-Live!, upbeat chiptunes from Kill la Kill and seasons 2-4 of One Punch Man! From iconic intro songs to new Vocaloid hits, the app has it all in one place.
Whether it be an 8-bit classic, chilling out to some J-Pop or a vocaloid sensation, you'll find something that fits perfectly with our intuitive search engine and custom playlists.
LISTEN.moe is designed as a listener's paradise, with no ads and extra features like Bluetooth headphone control support, Android Auto music support, and sleep timer. All you need to do is login to your account to access your favorites make requests on air!
Those who can't get enough of Japanese and Korean pop music will love this app that features J-pop and K-pop radio stations 24/7. The user interface is easy to navigate so that listeners are connected with what they want real quick!
J-Pop Powerplay is a lineup of Japan's most popular Jpop stars for your listening pleasure. If you're interested in seeing the cute, the edgy, and the cool side of Japanese pop music then this album will make for some unforgettable binge listening.
Japan Pop and Anime is an entertaining app that lets you enjoy great music from around the world. We have selected channels from SHOUTcast radio stations to ensure a memorable experience for all of our listeners. This app has everything you're looking for in one neat package! You don't need to think about anything, just relax and listen to some awesome J-Pop tunes!
Finally, here's an easy way to get your fill of Japanese culture without leaving your dorm room!
Spotify
Spotify is the big one. It's been around for years and it has a huge catalog of content from all over the world, including J-pop artists like Utada Hikaru and Perfume just to name a few! The app itself has tons of different features you can use, but for now the focus is on listening to J-pop.
YouTube Music
If you're a big fan of YouTube then this app will be your best friend! It has an incredible catalog that's constantly being updated with new content from all over the world including J-pop artists like Babymetal and Perfume.