Android web browsers are a dime a dozen. There are so many options available to you, it can be hard to choose which one is best for you. We compiled this list of the 5 best Android web browsers that will help make your decision-making process much easier!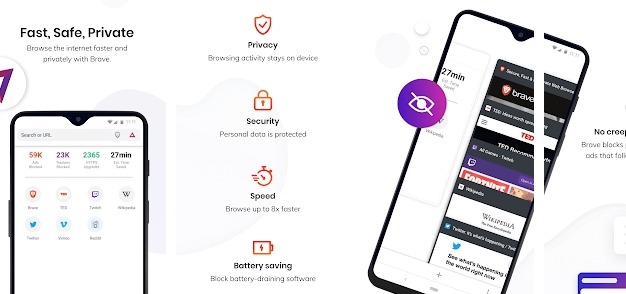 Privately search the internet! Brave Private Browser for Android is your fast, secure, and private web browser with ad blocker and pop-up blocker. Search where you want without ads (ad blocking) or private browsing using the best AdBlock app around (pop up blocker). Protect your privacy with its built in security features from malware, tracking scripts and more. Free download today to get started with browsing privately on safeguarded browsers only!
UC Browser is a browser for Android. It's the world's fastest and most powerful, featuring an anchorless user interface that was specially designed for touch devices. With new innovations in connection technology, Video Download that lets you pause-resume at your own convenience without seeing any abrupt breaks in the video stream ever again.
In addition to speeding up downloads from start to end, UC Browser also saves you storage space by intelligently storing files onto SD card as it downloads them. And only UC Browser comes with an exclusive tool called Call Feeds – a built-in caller id app which tells you who's calling before you even pick up the phone.
Google Chrome is the most popular web browser in the world. It's just as easy to use on an Android device and it syncs seamlessly with your desktop version of Google Chrome, automatically downloading tabs and data so you don't need to set up a new account! You can also customize browsing by adding or removing features like autoplay video for a faster, better browsing experience.
Google Search and Google Translate are built-in, so you can search for anything, translate words on the fly and more.
The Firefox Android app has been designed to be as intuitive and natural on a mobile phone or tablet as it is powerful and robust when accessed from your laptop or desktop computer. The browser includes all of the functionality needed to make browsing easy wherever you are – smart search, autocomplete and address bar that completes as you type.
Firefox features Collections. With the ability to open up as many tabs as you need, and store them in Collections so that they're easily organized, it's a good browser for multitaskers. You can share your collections on different devices, so you are still doing work even when you're not at a computer.
Whether you're browsing on your mobile device or in desktop mode, DuckDuckGo Privacy Browser is lightning fast and comes with all the browsing features you expect. Whether you want to unclutter your tabs or get rid of offending internet connections with a tap of a button- we're here for you. Unlike other browsers that sell out their users away to third party advertisers, we don't store any info about you during searches – leaving no trace on who's behind what ads are targeting or following where you go.