So you're looking for a place to stay and you have your phone handy. There are a lot of apps that can help, but which ones will give you the best experience? In this article, we'll explore five Android hotel booking apps that offer both low rates and great features so check them out!
There are many Android apps that can help you find cheap hotel and book them. We have selected five of the best Android apps that offer both low rates and great features, check out our list below!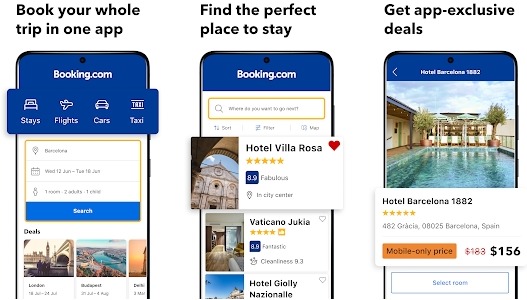 The Booking.com app offers travelers the chance to book their whole trip in one convenient place and have access to thousands of reviews, photographs, and maps before confirming a reservation. Discover options for every chain imaginable and browse photos that will make you feel like you're there. With the ability to chat directly with property representatives via the app or live customer service offered 24/7 in over 40 languages, booking your next getaway has never been easier!
Tripadvisor has the best travel guides for destinations around the world. Stay on top of things by checking out reviews and pictures from other people who have already been there, or staying ahead of your schedule with weather forecasts and alerts about your destination. Catch up with attractions in the area when you're offline with our Offline Maps feature so you're never left wondering what to do next. Download our app today to get the latest info about hotel availability and reviews from other travelers.
Discover the great deals of trivago when you hotel search, compare prices and save money on your next holiday or trip. With more than a million hotels to choose from, this app is ideal for planning your next vacation or business trip with ease. Other features include finding great last minute city break deals that will allow you to experience new places without spending too much. And if winter sun is what has got you yearning for some sunshine then check out our special listings!
Book a room at a great hotel for tonight, tomorrow and beyond. With HotelTonight you are booking with the best hotels throughout the world. A reservation is easy with just three taps of your fingertips or by gesturing over any spot on the map.
You will be able to quickly find an amazing deal on a suite looking out onto Central Park in downtown New York City or some land-locked way station in Nebraska while sitting at home drinking coffee, watching TV, and touching your phone occasionally when it lights up like you're sending Morse code messages to yourself from 40 years ago (not that we know anything about that).
Did you know that a lot of people are not using the specific app that offers hotels at discount rates? Find out more about our handy last minute services so you can plan your next vacation in time to make international travel arrangements or domestic itineraries without any type of hassle. With this app, it is easy to compare prices and pay low rates with no need for shipping fees such as those offered by other online booking sites.
Whether you're looking for a last minute getaway, or just need to avoid that high hotel fee. Hotels 50% Discount is your stop for the best hotels deals anywhere in the world. Receive Wi-Fi and room service at most of our 5 stars hotels, 3 stars hotels and motels nationwide. All this, with free cancellation online!
The app's hotel reservation system includes BnB, resorts, motels, and much more. Additionally they have a big list of honeymoon resorts and vacation rentals for worldwide travelers.