Do you love to race in your car? If so, then these new Android games for racing are the ones for you! These are the best Android racing games that we have found. They offer a variety of different game play and some of them even let you design your own cars. We hope this has been helpful to find the perfect new game for yourself.
Car racing games are one of the most popular genres for mobile gaming. As an Android user, you may be wondering what is new on the market and which ones you should download. This list consists of latest released car racing games.
Asphalt 9: Legends features over 60 seasons and 900 events. In Career Mode, players can embark on a journey to become the ultimate street racer. There are always new challenges to experience in the Events section of Asphalt 9. Players can take part in limited-time events or story-driven scenarios to compete among the racers in Asphalt. The game features a variety of environments, from city streets to off-road tracks.
Whether you're a racing enthusiast or just a car lover, there's never been a better time to get into high-end hypercars. With so many different models to choose from, and endless customization options, you can create a ride that's truly unique. And with the latest in racing controls, you can take your game to the next level.
With precise manual controls, you can level up your skills and race through the streets. If you prefer to cruise, TouchDrive™ is a driving control system that streamlines car steering to let you focus on decisions without overcomplicating things.
CSR2 is a real driving simulator that delivers hyper-real drag racing to the palm of your hand. You can collect some of the most iconic cars from different decades, like the 60s, 70s, 80s, and even the 90s! Customize your ride to find the car you need to take on different courses. There are also multiple difficulty levels to keep things challenging.
You can also go up against other players in intense single-player campaigns. The city driving mode is also a lot of fun. Tear up the road with fast cars and see how far you can go. The augmented reality mode is also a great feature. It's like you're actually sitting in one of these amazing cars. These free games are definitely worth checking out for any racing fan.
GRID Autosport is a new racing game that promises to deliver an intense and exciting mix of simulations and arcade gameplay. One of the most appealing aspects of the game is that it features 100 different cars and 100 different tracks, meaning that there is a lot of variety for players to enjoy.
In addition, the game includes a range of customizable controls, so that players can choose the option that best suits their playing style. The difficulty level is also adjustable, meaning that everyone from beginners to experts can find a challenge that is right for them. Finally, the game features a variety of different race types, including Open-Wheel, Tuner, Touring, Endurance, Demolition, Drift, Drag, and Street Races.
Motorsport Manager Racing is an online racing game that allows players to create their own motorsport teams and compete against other players from around the world. The game features Formula E drivers and cars, and provides a realistic and engaging racing experience.
There are also many different parts of the game that can be customized, such as the team's livery and the car's performance. This allows players to create their own unique race teams that can compete against others in thrilling 10-player races. Whether you're a motorsport enthusiast or just a casual racing fan, Motorsport Manager Racing is sure to provide an enjoyable and exciting experience.
As the manager of a Formula E team, you'll be responsible for making sure your drivers and cars are ready to race. You'll also need to manage your team's finances and maintain good relations with other teams and sponsors. If you can become the best-managed team in the business, you'll have a good chance of winning the Formula E championship.
The game includes all of the drivers and cars from the 2019/2020 Formula E season, as well as well-known racing brands such as Mercedes, Porsche, and many others. You'll need to use your management skills to get the most out of your team and take them to the top of the standings.
GT Racing 2 is a racing game for Android and iOS devices. The game features realistic car dynamics, various weather conditions, and different times of the day. You can choose from among 4 different cameras, and the game has 71 licensed cars on 13 tracks.
With 1,400 events to complete, including Classic Races, Duels, Knockouts, and Overtakes, there's plenty to keep you racing for hours on end. And if that's not enough challenge for you, there are 28 new challenges added each week – with the chance to win a free car if you're good enough!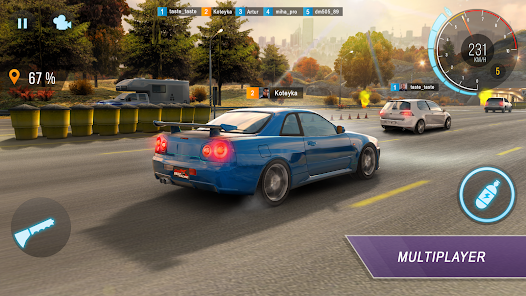 If you're looking for an awesome racing game with lots of cars to choose from and realistic physics, then you need to check out CarX Highway Racing. You'll be able to select from a variety of different cars, from pickup trucks to hypercars, and tune your car to drive the way you want.
The well-tuned physics will make you feel like you're really behind the wheel of a powerful car. And if you're competitive, you can race online against other players and move up through the leagues by winning. There are new competitors and challenges every season, so there's always something new to keep you coming back for more.
Real Racing 3 is a mobile racing game that has won multiple awards and sets the bar for other games in its genre. With over 300 vehicles from manufacturers like Ford, Aston Martin, McLaren, Koenigsegg, and Bugatti, as well as 19 real tracks from worldwide locations such as Monza, Silverstone, Hockenheimring, Le Mans, Dubai Autodrome, Yas Marina, Circuit of the Americas and many more, Real Racing 3 offers an unrivaled racing experience.
And with global 8-player, cross-platform, real-time racing or the ability to drop into any race to challenge their AI-controlled versions in Time-Shifted Multiplayer™, there's always someone to race. Plus, with over 4,000 events including Formula 1® Grands Prix™, Cup races, Eliminations, and Endurance challenges, there's something for everyone.
Hot Lap League is an arcade-style racing game that features a variety of tracks for players to master. Players can launch their cars over jumps, navigate through loops, and speed along magnetic asphalt at high speeds. The game also features visual customization options for players to personalize the look of their cars.
In addition, Hot Lap League features daily events and challenges that offer rewards for players. The game also features a live global leaderboard so that players can compare their times and progress with other racers from around the world.
The game also features dynamic racing gameplay that includes full car control, power sliding, and boosting. With over 150 exciting tracks to race on, Hot Lap League is sure to provide hours of racing fun for all players.