There's no doubt that Android is a great platform for gaming. With so many devices to choose from, developers have created some really amazing puzzle RPG games. If you're looking for a new game to keep you entertained, check out the list below of the best Android puzzle RPG games. You won't be disappointed!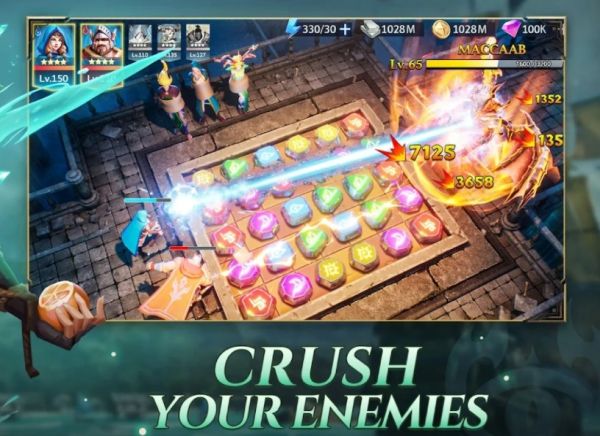 In this unique RPG game, the classic match-3 puzzle gameplay is mixed with battle, magic, and dragons, giving you a truly one-of-a-kind gaming experience. As you charge into the enemies fearlessly, you'll uncover the secrets of Antia and come face-to-face with legendary figures from different factions. But are you ready for the challenge? Collect over 50 epic heroes, level them up, and upgrade their abilities so you can put forth your best fighting force. With different strategies at your disposal, Call of Antia will keep you hooked for hours on end. So what are
As you play through the game, you'll be able to build your shire, collect heroes, and upgrade their abilities. The game is full of challenges and accomplishments, and it's a visual marvel. You won't be disappointed!
You Must Build A Boat is a perfect game to satisfy your craving for adventure. In this match-3 RPG, you get to build a boat and journey around the world, visiting places ranging from the Mage Tower to the depths of Hell.
But, of course, your voyage won't be easy — as you progress through each level with its own set of distinct challenges and puzzles, you'll need to battle monsters and use magic in order to stay afloat. Furthermore, you will have an opportunity to hire a crew to help ease your journey. Recruit the best soldiers from around the globe so they can offer their services and make things a bit more manageable.
With random dungeons—each one generated procedurally with fresh content—and Dungeon Modifiers, there's something new waiting for you every time you start playing! Do whatever it takes to keep on running – grab onto every bonus point in sight! Be sure not to forget about your Arcanery too; upgrade your spells so that you can survive epic long trips and journeys filled with surprises.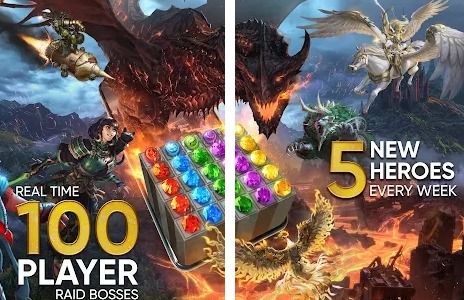 Legendary is a gripping puzzle RPG that will take your skills, strategy and teamwork to the next level. With epic heroes, terrifying monsters, and mind-blowing magic, this hair-raising dark fantasy RPG will keep you on the edge of your seat. Combining magic match-3 puzzles with a hero card collection and deep fantasy lore, Legendary offers a unique take on the RPG experience.
With thousands of magic cards to collect, players can put together a team of dream heroes and take them into battle. And with each new level, they'll just keep getting stronger. But it's not just about individual strength – in "Legendary Heroes", players can join forces with other like-minded players in guilds. Battling other guilds is one of the most thrilling experiences the game has to offer. But it's also a great way to socialize, strategize and make new friends.
Do you have what it takes to become a pixel art hero? With 10,000,000 offering the ultimate reward for success, those up ready for the challenge should start by matching swords and staves with Orcs, Dragons, and Elementals! Maybe that seems too hard, so dig into your backpack of items.
You can cast spells to change all the tiles on the puzzle board or eat some food to give yourself an energy boost. Still, having trouble? Use any loot you find and bring it back to the Blacksmith and Armorer to upgrade your gear for even more help!
The game has roguelike difficulty, meaning that with every attempt you'll get stronger and closer to reaching the score of 10 million. As your progress through the dungeon, you'll also be able to acquire and brew potions that will make you even more powerful. But if you're feeling lucky, why not give yourself an extra challenge by drinking special potions that cause enemies and treasure chests to become harder?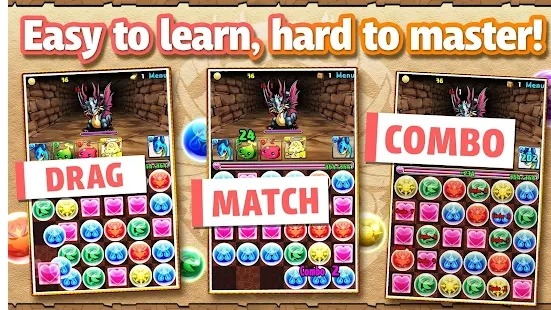 Puzzle & Dragons is one of the most popular games on the Play Store for good reason. It's simple to learn and addictive, but it also offers enough depth to keep you coming back for more. The premise is simple: you assemble a team of monsters and then take them into dungeons to fight other monsters.
Combat is resolved by matching three orbs of the same attribute; if you can chain together multiple combos, you'll do even more damage. The game also features a monster-collecting element, which adds an RPG element to the mix. With hundreds of monsters to collect and numerous dungeon objectives to complete, Puzzle & Dragons will keep you entertained for hours on end.
If you love a challenge, the Bomb Club is an amazing place to explore and beat! Each level throws in a puzzle with different types of bombs and hats – from the Party hat, Hard hat, and Top hat to name a few!
Completing levels offers rewards that'll help you unlock new stuff. From there, the possibilities are infinite. Use your knowledge about bombs to expertly complete each level and get the highest score possible. Find out what waits at the end of your explosive journey when you join the Bomb Club!
Plus, you don't have to worry about boring puzzles as each level gets more exciting as you go along. Get ready for some creative chain reactions happening on top of dialogue boxes, shadowy figures talking mysteries, and special surprises that'll give you a push on your mission: becoming an expert bomb wielder!
Ever since she was a child, Victoria dreamed of one day learning the secrets of magic and becoming a witch. After studying for many years and mastering her craft, she is finally ready to save her parents from the Gatekeeper who has held them captive – wicked Agnes!
In order to free them, Victoria must travel through a dangerous and magical land filled with obstacles where witches and wizards unite in an epic battle against evil. With Secrets of Magic 2: Witches and Wizards leading the way, you can join Victoria in her exciting adventure as you match your way through tons of unique and challenging levels.
There are four game modes – relaxed, challenge, expert, and casual – as well as power-ups that you can boost by collecting coins.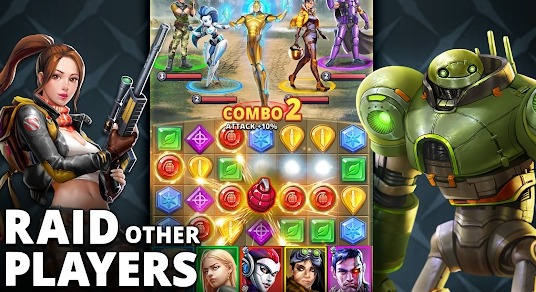 In this game, you'll battle wave after wave of enemies, using only your brain to clear the levels before the zombie's attack. With hundreds of amazing characters to choose from, you can assemble the perfect team to take on PVP opponents, bosses, and rival alliance clans. And don't forget to equip your team with unique upgradeable weapons -you'll need all the help you can get to survive in this story-based RPG.
In Puzzle Combat: Match-3 RPG, players collect and level up heroes to form powerful teams. With hundreds of unique heroes to choose from, there is a hero for every playstyle. In PVP wars and PVE missions, players team up with friends and allies to take on opponents. Collaboration is key to success in these epic battles. In addition to working together, players can customize their weapons to suit their needs. By upgrading and crafting powerful weapons, players can create an unbeatable arsenal.
Spellspire is the perfect mixture of word game and action RPG – exciting, intense, and never boring! It all starts with picking out letters from a grid to form words; the longer the word you spell, the more powerful the blast on your foes.
Defeat enemies and collect gold as you move towards the top of Spellspire in order to buy better equipment – think wands, robes, hats, and other special items with magical effects – which will help you fight even tougher monsters. And did we mention the teamwork element? You're able to team up with your Facebook friends or other players to create a formidable force together – strategizing and spellcasting until no figure remains standing.
Whatever it takes to get through those levels! So let yourself be enticed by this fantastic mashup; Spellspire will keep you enraptured as you progress higher up through its twisting halls!
In Ticket to Earth, you are taken far away to a distant planet where a deadly conspiracy looms. But the storyline isn't the only thing that makes this game revolutionary – its tactical puzzle RPG gameplay is unlike anything you've seen before.
The game's battlefield is presented as an ever-changing puzzle grid, and it's up to you to position your team and collect matching tiles in order to power up devastating special abilities. You'll be challenged at every turn as your strategy must constantly adapt in order to accomplish a range of mission objectives.
Current players say the innovative blend of turn-based tactics, perplexing puzzles, and immersive RPG storytelling makes Ticket to Earth an unforgettable experience that can be enjoyed by novices and veterans alike – all within one multi-award-winning title!
Every adventure will present unique challenges that force you to think outside the box – so hop aboard and take your ticket to explore this iconic world today! ​