There are so many great Android games to choose from, it can be tough to know where to start. Stealth games are still a bit of a niche in the world of gaming, even there are less games available in mobile.
If you're looking for a stealth game that will test your skills and keep you entertained for hours on end, though, look no further than the list below! These Android stealth games are sure to give you a challenge while keeping you engaged and entertained. Let's appreciate any games in this genre.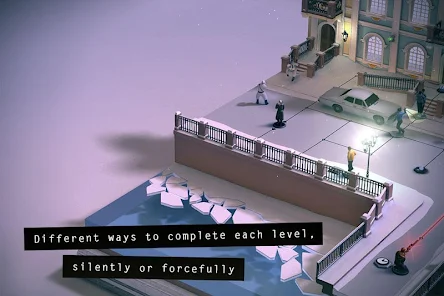 Most people are familiar with the Hitman series of video games. They're popular for their blend of stealth and strategy, and now there's a new game in the franchise that's just as addicting – Hitman Go. This time, the game is set in a spy-themed world and your goal is to solve puzzles by using your brainpower. The visuals are reminiscent of a scale model, and the environments are full of hidden passageways and off-limit areas.
You'll have access to all of Agent 47's usual tools like disguises, distractions, hiding spots, sniper rifles, and even the Silverballers. There are different enemy types with different behaviors, so you'll need to use different strategies to complete each level. Whether you want to play it safe or go in guns blazing, Hitman Go is sure to give you hours of fun.
HandyGames is a well-known developer of Android ports, as it has produced versions of SpongeBob SquarePants: Battle for Bikini Bottom, Titan Quest, and Battle Chasers: Nightwar, three of the greatest Android games available.
HandyGames has just released El Hijo – A Wild West Tale, a non-violent indie stealth game from Honig Studios, as the latest mobile port.
The story follows El Hijo, who sets out searching for his mother after she vanishes one day while walking home from her job at the diner. Along the way he meets new friends that help him on his journey – will he find what he's looking for?
El Hijo is a non-violent stealth game, and it was created with that in mind. Even though the game's darker elements include your farm being destroyed, the solution is always stealth gameplay without killing, which means El Hijo is suitable for anyone.
You need to pay $9.99 to play the game, but there are no ads or in-app purchases. This means you can play the whole game without any annoyances from mobile devices.
El Hijo's gameplay is fast-paced, casting you as a young hero with cunning and bravado. The game offers tactical toy-based challenges to bypass enemies and procedurally generated scenarios for replayability.
For the controls, the mobile version's new touch inputs are fine, and if you want something a bit more tactile than a glass screen, you can use a controller. With simple touchscreen controls, El Hijo can be played effortlessly on mobile devices such as tablets or mobiles.
There are three graphical settings to choose from Low, Medium, and Balanced. The frame rate remained steady at 60FPS on high-end phones.
Saving your game to the cloud isn't just for consoles and PCs, as it's now available on Android. You may also save directly to Google Drive or Microsoft OneDrive, so you can easily pick up where you left off even if you switch devices.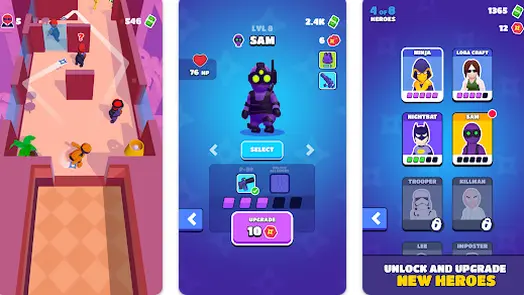 If you're looking for a truly unique and challenging gaming experience, Stealth Master is one Android game you definitely don't want to miss. In this stealth-based action game, your goal is to take out security guards protecting a building – but it's not as easy as it sounds. As you advance through the game, you'll need to use your skills, speed, and stealth to take down increasingly difficult targets, including gangsters and executives.
And with tons of different weapons at your disposal – from kunai and katanas to high-powered sniper rifles – you can find your favorite form of lethal force and hone your particular skills. Plus, you'll need to adapt to your environment, whether it's avoiding flashlights or mastering the art of silent movement.
Mr Rumble – Stealth Action, as the name implies, is a stealth game with little action. It has a simple gameplay.
Despite its unpretentious foundations, there's a lot of excitement to be had. Each stage is similar to a puzzle in which you must avoid traps and guards in order to acquire diamonds.
Despite its basic appearance, Mr. Rumble is profitably monetized, and you may test it for free with advertising or pay to have them removed if you appreciate what you see.
Mr Rumble is a sly and comical legend: the legendary thief.
In each stage, you must try to steal the diamond with your sticky hands. You will need to avoid traps, sneak past security guards and harmless individuals in order to acquire the precious item.
Hide and avoid being discovered, like a ninja.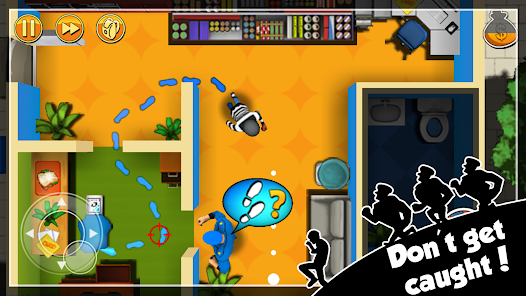 In Robbery Bob, you play the titular character, Bob, who is… a thief! Your goal in the game is to rob different places – from local neighborhoods to Downtown – without getting caught. This is easier said than done, however, as you'll have to sneak past security guards, residents, and sleeping dogs.
Additionally, each stage has a different map with different puzzles. Can you get a perfect on every map? Can Rob the legendary thief rob every item in the level? The game is packed with humor and is sure to keep you entertained for hours on end.
People are always afraid of ghosts and they're right. Ghosts are scary! But look at it this way, you're the ghost and your only job is to haunt people. There is a certain thrill that comes with knowing you're feared. Well, Poltergeist allows you to play the role of a ghost, only that this time round it is you that is hunted. Your goal is to outmaneuver ghostbusters and survive for as long as you can. Being found means instant death, so you will have to hide behind shadows as your monitor your assailants' every move.
Poltergeist is known for its unique graphics and 3D visuals. Additionally, the user's experience is enhanced by clean and exciting gameplay. It has all the qualities of a good game, which include ease, fun, and excitement. I know many games that are so complicated that one would rather stop playing them to relax their mind.
The award-winning sci-fi stealth action game this far, the crew of Space Marshals is back and ready to take on all comers. With weapons at the ready, you're fighting a two wars: for your life with futuristic weapons and abilities as well as for humanity's very right to live among the stars.
A revolutionary game that demands unmatched stealth and tactical combat. Space Marshals 3 is set in outer space with the gamer required to hunt every last one of the bad guys in space. Fasten your boots and get ready for plenty of action without necessarily requiring foreknowledge of the original story.
If you're unsure about the experience of our game, try it before buying! You'll be able to first see how a level plays out and then decide if that's what you want. We can't wait for your feedback on where we go next since this is an indie title with one chapter at time release- there won't be any need for in-app purchases. Keep us updated so we know when to take off or fly higher!
As a professional stealth operative, you must be able to choose your approach carefully and know when not to fight. Use distractions like luring different enemy factions together and let them fight each other instead of always running into the gun battle guns blazing with no regard for yourself or others.
In Space Marshall, you'll need to master the environment for your tactical advantage – cover yourself while you strafe from one hiding spot to another or sneak around behind enemies without being seen! The game will give you tools of trade such as distractions (smoke grenades), flash bangs, traps and more…
Choosing which weapon or armor suits you best is integral for survival on the battlefield – no point fighting if someone else has already beaten you before they even started! Each piece of gear comes with its strengths and weaknesses so make sure depending on who's coming after me I'm prepared enough to defend myself…or just hide until help arrives.
République is an episodic stealth game for your Android. In the game, you receive a call from Hope, a woman who is trapped inside a mysterious totalitarian state. By hacking into the nation's elaborate surveillance network and taking control, you guide Hope through a web of danger and deception across five thrilling episodes. République features one-touch stealth action gameplay, immersive puzzles and strategic choices, and innovative, interactive developer commentary (in-app purchase). The game is fully translated into English, French, German, Spanish, Russian and Portuguese.