Are you trying to find a way to simplify your life? The best receipt scanner apps for Android can help you do just that! Receipts and paper clutter are common problems in the business world. Not only are they time-consuming, but they also make it difficult to find what you need when you need it. With these apps, all of your receipts will be scanned and organized automatically! They'll also sync with project management software, so now there's no more worry about forgetting any important information.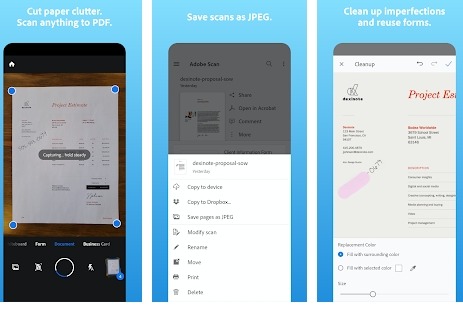 The Adobe Scan scanner app turns your device into an intelligent and powerful PDF scanner. You can make any document scannable with just a few taps of the screen. This is great for business people looking to save time on paperwork, students who want to digitize notes ahead of exams, or travelers who need quick scanning before they leave the airport!
If you're worried about trying to track your receipts in-store or at conferences, create a photostatic copy easy using this free mobile app.
TurboScan is a great tool for quick, on the go scans of documents with your smartphone. This one time purchase will provide you with an always accessible scanner with many features to help make your life easier. TurboScan eliminates printing problems and disabilities that might make it hard to use other scanners like copiers .
Even if you've lost or broken your glasses or can't focus well anymore because of Macular Degeneration, TurboScan helps by using the camera as a pointer and magnifying glass for scanning larger items up close.
TurboScan solves all these problems while also helping travelers carry less weight around airport security lines and business professionals get work done more efficiently.
Expensify is a business expense app with smart scan technology. Expensify makes it easy for professionals to track their expenses and book flights pain-free. One of the best features is that Expensify has an unlimited receipt scanning feature so you no longer have to carry your receipts around everywhere – they live in the app! 
Expert Tip: If you want to go completely digital, add the Expensify Card with contactless payments to Apple Wallet and Google Wallet and say good bye to carrying cash ever again.
With Smart Receipts, you can generate professional reports with personalized data to save hours while increasing your organization. Smart Receptions has over 20 different default data types (including dates, price, tax information) so you can generate the perfect report making everything easier in a click of a button – no more hours of calculating expenses that will take time away from what actually matters to you.
Never lose another receipt again. With MrReceipt, scanning the barcode and attaching a detail of what you purchased will back up your purchase history for when you need it later. This is backed by our peace of mind guarantee that if anything happens to your information we'll make sure you don't have to pay for it.