When it comes to word games, there are many different types of game play. Some focus on speed and accuracy while others are more about strategy. Word games can be played in a group or with friends, or they can be played solo against the computer for practice. There's even an option to compete against your Facebook friends! This blog post will introduce you to some of the best new Android word games as well as share tips on how to pick out which is right for you.
The Top Word Games for Android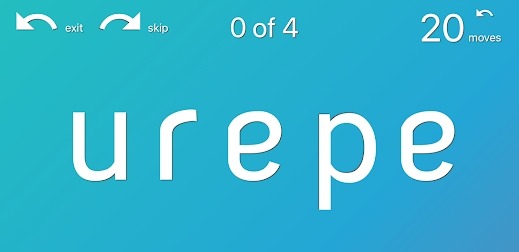 Anagraphs is a clever new puzzle game that will blow your mind with its creative and inventive use of letters. Rotating the confusing 'm' to form a recognizable 'w', the app is able to include the word "aw" in anagram puzzles which really takes things to another level. Clever, unconventional, and outright addictive–Anagraphs is truly an homage to wordsmiths everywhere!
The more you play, the less believable it becomes that you've never seen anagrams before. It's a loveable game that we want to teach everyone on the planet how to play. So if it sounds new and exciting give Anagraphs a try or your word search soulmate may never find you.
Skillfully crafted for Android, this word puzzle game is absolutely incredible. Play with anagrams, crosswords, and word searches to connect words that share a common prefix or suffix. Compete to be the first one to solve all the puzzles in sessions of 10 minutes per day of play! Mind sharpening has never been so much fun!
Mesmerize yourself into these beautifully designed photos scenes from around the world as you enjoy solving new words every time. The simple process will bring hours upon hours of endless joy with no end in sight. Introduce yourself today by getting your own copy now and start enjoying life more than ever before!
Wordscapes is a free word puzzle game that combines anagrams, crosswords, and word searches. It includes the best parts of all three pastimes to create one addicting challenge. The interface is clean and uncluttered so you can focus on solving these beautiful puzzles without distraction.
SpellTower is a re-released word game with more content.
As you work, the tiles rise from the bottom of your screen. You'll need to think quickly and strategically in order to keep them down! If any letters make it all the way up, you're done for good.
The game features more modes for more fun.
TOWER MODE: Play a competitive game where you can rack up the most points, eliminating small words to set up 7- and 8-letter blockbusters!
DAILY TOWER MODE: Compete against other players in similar towers that change daily!
PUZZLE MODE : The more words you make, the harder it gets to find an appropriate letter. You can only use letters in a word that's already been used as well, so put down those vowels and go hunting for consonants!
EXTREME PUZZLE MODE : This is a puzzle mode with the minimum word length cranked up. Perhaps this is for experts only!
ZEN MODE : Puzzle mode with no restrictions on length.
RUSH MODE : There are plenty of letters available on the board. Try to use them in the correct order to find words as fast as you can, but make sure not to get yourself trapped into a corner!
An interesting head-head combative game, Kitty Letter is a world-renowned game. It requires the player to use cat vocabulary to protect themselves from an exploding legion. Its main feature is an extensive single-player campaign, but you can also play with friends or strangers if you like. Additionally, you don't have to collect any coins, cards, or complete levels, allowing the player to enjoy the game limitlessly.
Features:
You can play games with people you don't know or with friends in an 1vs1 match.
The single player campaign is extensive which features an all-new story by The Oatmeal.
No part of the game requires you to collect things such as cards, coins or level up anything. All that is required playing – is know how to play.
If you really want to buy cosmetics that have no power, then just earn or purchase them.
Make the wheel spin to have a letter! You'll need to find words in each of the five categories. You'll have 60 seconds to form words which start with a letter that appears on the top of the screen. Created words must be the answer to questions displayed in the middle of the screen.
From the creators of Trivia Crack, AWorded and Wordfeud comes an adaptation for mobile devices. Quick thinking and prompt responses are what it takes to win! With league rankings as well, this app provides for hours upon hours worth of challenging gameplay that will keep you coming back again and again.
Do you like letters, crossword puzzles and word searches? If so then this is the app for you! Win rewards, display your wide vocabulary in league rankings or compete against friends. You can also change categories to suit what mood you're in by saying 'stop' to cut off time short on opponents.
Brainito is a word and number based game. The development is designed to help you boost your brain activity and to test it. You will have to form words, to solve various mathematical calculations and so much more. Test your family and friends to see their potential!
Spellspire is a word game with an exciting mix of RPG elements where you progress by collecting gold and buying better items from between levels. Become immersed in the spell-filled world as you go deeper and deeper into the Spellspire.
In Spellspire, players progress through the game by spelling words associated with an action role playing setting. Players move in a 3D grid of letters wheeling out from a center point to find and form words that enemies can't see. Naturally, hitting monsters with what they don't know has no end on how empowering it is; collecting gold as spoils you for upgrading items between stages! Play solo or team up with friends against the challenge of finding more creative spells than your opponents to become victorious!
Combining the thrill of word-building and arcade-style puzzles, Alphabear is a refreshing twist on an old favorite. Spell words out of small bears by dragging letters onto a grid. When you spell letters that are adjacent to each other, bears make their appearance! The more letters there are in a single word, the bigger the bear becomes and the more points you earn for that draw. Use your vocabulary wisely though: careless spelling could lead to smaller bears or no bears at all!
There's never been a better time than present day to get addicted to this letter-based puzzle game with one major twist: when you spell long enough words on top of each other, cute furry friends appear – and it just so happens they love to eat acorns.
Typeshift is a fresh take on the mental challenge. Solve puzzles in all shapes and sizes, from quick 5-word challenges to grueling 30+ words designs. Earn bonuses with each correct answer, and collect trophies for completing your three shard sets of letters!
Get swept away by Typeshift's mind bending word puzzle blitz of tricks & turns that will keep you guessing until the very end; but remember to always look before you leap!
Swipe back and forth through different letter combinations to reveal single words buried in mazes of letters waiting for discovery. The best part is that there's so many paths to choose from: play one word or swipe across every option at any level – it depends only on how skilled you are.