Turn-based strategy games (TBS) are a classic genre that can be traced all the way back to 1965's Tactics, a game for the tabletop gaming system Diplomacy. The premise is simple: players take turns making moves that affect all of their units on the board until one player either achieve their victory condition or is defeated.
This style of gameplay is popular on mobile devices, especially Android smartphones and tablets, due to its casual nature and easy portability. So if you're looking for some great TBS titles to keep you occupied during your downtime, check out our list of the best Android turn-based strategy games below!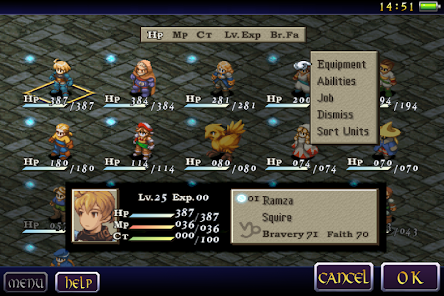 As the first tactical RPG in the Final Fantasy series, Final Fantasy Tactics on Playstation was hugely popular, selling over 2 million copies worldwide. The 2007 re-release of the game for PSP, entitled Final Fantasy Tactics: The War of the Lions, was even more successful, with added features such as new movies, scenarios, and Jobs. And now Android users can enjoy the best version of the game.
One of the main reasons for the game's success is its intuitive touchscreen controls. The complex tactical gameplay can be effortlessly controlled by simply tapping units and menus. Gone is the old fixed map view system – you can now rotate, move and change the size of maps as you please by sliding and pinching.
In addition, loading times have been improved to get you into the action quicker than ever. You can even skip certain cut scenes if you want to get straight to the good stuff. Whether you're a seasoned tactician or a newcomer to the genre, Final Fantasy Tactics: The War of the Lions is a must-play game.
Age of Magic is a mobile turn-based RPG game about legions of epic heroes fighting on the remnants of an ancient world. Here war and magic intertwine with raid heroes and skill-based fights. You can explore the vast Age of Magic world pierced through with the powers of light and darkness, build the ultimate party of heroes, and challenge other players in the PvP Arena daily. You can also collect over 60+ epic heroes, level them up and gear them out with powerful weapons and armor, and upgrade their abilities and rarity. With so many options for gameplay, you'll never get bored! So what are you waiting for? Download Age of Magic today!
In the ultimate conflict between good and evil, Actraiser combines 2D platforming action (Realm Acts) with a realm management & simulation.
The legendary Yuzo Koshiro, who composed the soundtrack that sent shockwaves through the gaming world when it was first produced, has remastered it!
In the newest version of the game, you get a lot of new features. These include:
Beautified 2D graphics that are in HD.
There are 15 new music tracks and also rearranged original tracks by Actraiser composer Yuzo Koshiro!
The story is expanded with more action and new gameplay, such as realms and bosses that offer more power.
Auto save, so you won't have to worry about losing data if your system crashes or something else happens while playing.
Difficulty levels so people can play at a level they're most comfortable with!
In this action-packed 2D platformer, players fight with creatures and defeat bosses using their combat abilities. The game is played in a side-scrolling format. Humans will return to reclaim the realm once you've vanquished these stages, enabling you to start building your towns.
Two new spells, which were not available in the original game, have been introduced together with the capacity to dodge. For a more dynamic action experience, players may also attack using upward and downward movements. To defeat tougher bosses at the conclusion of the new adventure stages, you'll need to utilize every new technique you've learned.
Realm Management: Assist humanity develop by developing your towns and providing assistance. Use your magical abilities to summon lightning and induce earthquakes to remove impediments such as trees and boulders that are impeding the growth of your chosen. Play as an angel of the Lord of Light's army and his powerful bow and arrows to defend against malevolent monsters who prey on
In real-time strategic conflicts, defend your settlements from attacks by the enemy. In these fights, it's important to carefully plan your forts and cast miracles at the right time.
All-new stories of humanity's struggles to overcome their flaws and failings as they learn to love one another and together grow stronger will be available for you to experience. These new situations, when combined, total more than twice the narrative in the original. Explore an even larger world than before and construct your settlements for longer!
The Battle of Polytopia is a turn-based strategy game for Android that has you ruling the world, fighting evil AI tribes, discovering new lands, and mastering new technologies. With unlimited replay value and auto-generated maps, each game is a new experience. You can play Singleplayer or Multiplayer, with matchmaking to find players all over the world.
There are three game modes – Perfection, Domination, and Creative – and 4X gameplay (eXplore, eXpand, eXploit, eXterminate). In addition to diplomacy, there are also invisible cloaks and daggers for stealth.
This game is perfect for anyone who loves strategy games with a mix of exploration, combat, and building.
Banner Saga 2 is a turn-based strategy game that takes place in a world inspired by Viking mythology. The game's art style is beautifully hand-drawn, and the 2D combat sequences, animations, and effects are all incredibly well done.
The story picks up where the first Banner Saga left off, or you can start from scratch with pre-set character options. Either way, you're in for an epic adventure set in a Viking mythology-inspired world. Tactical combat has been improved and demands precision and strategy. You can level up your characters' stats and unlock devastating new moves as you go.
Choices matter in this game, both in and out of battle, and they can have real consequences with lasting impacts. There are new characters to meet, including the new race of Hirdmen.
In Raven's Path, you'll lead your heroes up a path to glory in exciting real-time battles. Swipe across the battlefield to direct your units and take down foes in this unique tactical RPG. With responsive mobile controls, you'll have unprecedented control over your army in fast-paced battles.
Spanning 25+ hours of gameplay, Raven's Path will keep you hooked for days on end. Collect countless items to build an army as unique as you are, and become the master of this exciting new game!
Hoplite is a simple turn-based strategy game focusing on tactical movement. The procedurally generated levels give a new experience in every play. You can upgrade your abilities by making strategic choices and unlocking additional features.
The leaderboard and achievements through Google Play (optional) show how you compare to other players. The premium version is a one-time purchase that grants access to challenge mode, deeper gameplay, and more choices. Buying the premium version also supports the developers so that they can continue to create new content for the game.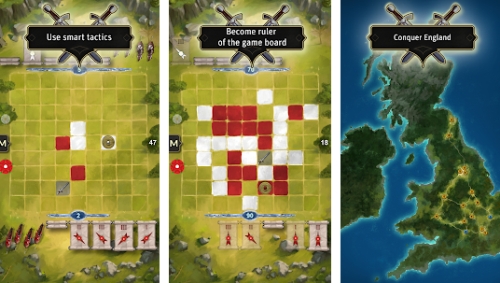 King Tactics – Wars of the Roses is a strategy game that is based on the war between two families in the United Kingdom. The game itself is a board game with strategy elements. Players can play versus each other, versus AI in 3 different levels or online versus other players. The goal is to place your troops carefully and win as many linked fields as possible.
Fire Emblem Heroes is a great game for people who love strategy and turn-based battles. The story is original and there are new characters introduced all the time. In addition, there are dozens of battle-tested heroes from across the Fire Emblem universe that you can meet. The story is interesting and engaging, and it will keep you coming back for more.
There are over 1,800 story stages available as of August 2022! The game is also great for people who want to take part in strategic turn-based battles. The maps are easy to understand and the gameplay is streamlined for on-the-go play. In addition, there are many other modes where you can strengthen your allies, compete against other players, and more.
Hearthstone is a great game for people who want to take part in strategic turn-based battles. The maps are easy to understand and the gameplay is streamlined for on-the-go play. In addition, there are many other modes where you can strengthen your allies, compete against other players, and more.
It is a card game that anyone can pick up and enjoy. You can practice against AI opponents in PvE adventures, face other players from around the world in real-time PvP, or duel the strongest Heroes in the Warcraft universe.
The Jump Right In feature gives you a fun introduction to the world of Hearthstone with intuitive gameplay. You can also collect cards and craft your deck using hundreds of unique cards. The 8-player experience lets you take on the role of familiar Heroes from WoW history and battle it out in the Battlegrounds.