We all know that the best way to spend a rainy day is with one of our favorite match-3 games. Some people like to play them online, while others prefer to download and install them on their phones or tablets for offline fun. With so many options out there, it can be tough to decide what game will make your rainy day complete. We've compiled a list of some of the newest Android match-3 games that are sure to keep you entertained! Read on below for more information about these great new releases!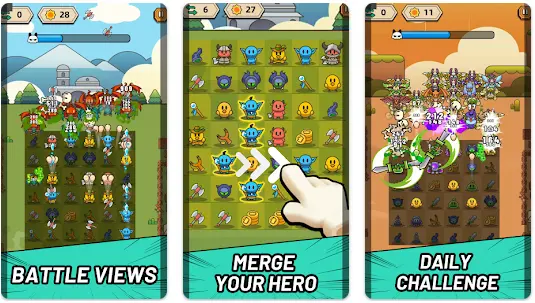 Slime Legion is a game where you match three monsters to defend your castle. The forest is under attack by heroes and it's up to you to become a brave devil and protect it. You can merge your monsters and choose your favorite team to defend your castle.
The game has addictive gameplay and a powerful tower defense mode. You can also select skills like in a roguelike game. It's a fun and easy strategy game where you can strengthen your monsters and evolve them into unstoppable soldiers.
Matchy Catch is colorful and addictive match-3 puzzle for casual game lovers. The game is simple to pick up and play at any time and places. Matchy Catch requires player to remember the objects' original layouts then reproduce them via touchscreen commands.
Like any other match-3 games, players will find a big collection of levels with challenging yet casual puzzles where players can boost their overall score with combos and bonuses. You will find many power-ups such as Lightning and Rainbow Hammer in a level to put certain good conditions in your hands like freezing time.
The game is based around icons, which are cute little designs placed in an awesome and immersive environment with high quality sound effects and 3D graphics. You need to match them in a row in order to pop them. We can change their appearances with skins and themes.
Features:
This is a new puzzle match game developed by Jyamma Games.
It offers offline mode.
Match Match has stunning 3D graphics and particles VFX to accompany.
Incredible SFX and great soundtrack makes you immerse more in the fun.
There are more than 10 different skins for your icons and backgrounds.
New contents can be unlocked via Achievements.
Candy Crush Saga is one of the most popular puzzle games on Android, and for good reason. It's insanely addictive and can be a lot of fun to play. The goal of the game is to match up three or more pieces of candy in a row, and doing so will cause them to disappear. If you manage to clear out all of the candy from the screen, you'll move on to the next level.
Candy Crush Saga can be pretty challenging at times, but that's what makes it so much fun. There are also plenty of power-ups and other bonuses available to help you along the way. And if you ever get stuck on a level, there's always a helpful hint available to show you the way.
Maple is counting down the days until it's finally time to indulge her sweet tooth with Sugar Blast: Pop & Relax. This fun and challenging matching game will have you collecting all kinds of delicious confections.
In Sugar Blast, you'll need to tap and match candies to blast them and solve puzzles. With every move, you'll discover new strategic possibilities and exciting surprises. So go ahead and indulge yourself with thousands of fun levels. And if you need a little help along the way, don't forget to use boosters. You can also level up and win rewards like boosters and infinite lives.
Tasty Tale is a highly amusing and addictive free puzzle adventure where you get to play as the chef in restaurants all around the world. The objective of the game is to prepare and serve delicious dishes by combining a variety of ingredients. You will have to mix and match colorful ingredients to solve over 1000 levels in the game. Some of the recipes you will be preparing include salads, burgers, cookies, candies, cakes, and pizza.
The game is easy to learn but hard to master. With over 1000 challenging levels, you will never get bored playing Tasty Tale. The colorful and vivid graphics make the game even more enjoyable to play. You can also compete with your friends by trying to top the leaderboards.
If you get stuck on a level, don't worry! There are boosters available to help you through tough levels. You can also spin the wheel of fortune to get your daily reward. Moreover, the amusing characters will keep you entertained throughout the game.
Lily's Garden is a pretty neat match-3 puzzle. You help Lily renovate her great-aunt's garden to its former glory by matching flowers and solving blast puzzles. You get to renovate, decorate, and expand the garden with unique locations as you progress through the story.
The story itself is pretty good, with plot twists and hidden secrets along the way. You also get to explore the garden with its hidden objects, and dozens of flowers and unlock secret areas. The gameplay is pretty standard match-3 stuff, but it's still fun. And the special events and rewards are a nice touch.